New Ulysses Grant presidential library at home in the South
Nov 16, 2017
Originally posted at https://apnews.com/1c79b8f4c8974576a3f072b5f204532a by Jeff Amy 
STARKVILLE, Miss. (AP) — It's not ironic, but intentional. Ulysses S. Grant, the Union general who won the Civil War and later the presidency, is back in Mississippi in a way few would have imagined not long ago.
His new presidential library opens this month at a university in the state where Grant gained fame by capturing the Confederate stronghold at Vicksburg.
Mississippi State University will launch the new library and exhibit space housing Grant's papers and artifacts on Nov. 30. That may seem improbable in a state steeped in the Confederacy, but supporters hope the library — with its interactive exhibits, artifacts and vast trove of historic documents — will help further unity more than 150 years after the war.
The state spent $10 million to build a new home for the Ulysses S. Grant Presidential Library at Mississippi State University in Starkville. And the man instrumental in bringing Grant's papers to Mississippi last decade said he hopes it will help heal lingering North-South divisions.
"It was our view that going to the South with these collections would somehow, somehow, help people to understand each other and survive as a family," said Frank Williams, a former Rhode Island Supreme Court chief justice.
Williams is president of the Ulysses S. Grant Association, which owns the papers. He also recently donated his own extensive private collection of Abraham Lincoln books and memorabilia to the university, meaning Grant's library also will house a gallery dedicated to the president who trusted Grant to save the Union.
Echoes of the 1861-1865 war still linger in debates over whether Confederate flags, war monuments and holidays are tools of white supremacy or markers of Southern heritage. Mississippi, home of defeated Confederate president Jefferson Davis, is locked in a never-ending debate over redesigning its state flag featuring the Confederate battle emblem in one corner.
Grant split the Confederacy in two on July 4, 1863, when he captured heavily fortified Vicksburg, on a bluff overlooking a bend in the Mississippi River. The city's surrender by the Confederacy followed a siege set up by a military campaign historians consider one of the most brilliant in American history. Grant went on to become the nation's 18th president.
Mississippi State President Mark Keenum championed the library, calling it a "beacon of reconciliation" for the nation.
"I think President Grant, if he were alive today, would be thrilled that his presidential library is in the Deep South, and in particular a state like Mississippi, where he had great military success," said Keenum.
The library features selections of Grant's papers, photographs from wartime and his two presidential terms, 1869-1877. There are four life-size statues of Grant, an elaborate book picturing Grant's 7-mile (11-kilometer) funeral procession, and a desk from an Illinois courthouse where Lincoln practiced law. Electronic exhibits help enliven history and visitors can even email electronic postcards from the Grant gallery.
John F. Marszalek, the library's executive director and managing editor, said the library helps dispel lingering myths that Grant was a drunkard, a butcher of a general who won only thanks to superior numbers, or a failure as president.
"He was the general who won the great victory that preserved the Union and rid the nation of the curse of slavery," said Marszalek. "He is also considered now by historians to be the first modern president." Yet the museum doesn't shy from less-flattering episodes, including Grant's attempts to shield subordinates from prosecution during tax and bribery scandals during his administration.
The Grant association began collecting the president's letters in the 1960s during the Civil War centennial and published 32 volumes of correspondence. But that's only a fraction of the letters, said Marszalek, a retired Mississippi State history professor and biographer of Union Gen. William T. Sherman, a friend of Grant. Southern Illinois University hosted the papers for years until a dispute sent them to Mississippi in 2009.
Despite Deep South setting, the project has drawn what Marszalek calls only "minuscule" opposition. One Southern heritage group held a little-noticed Confederate-flag demonstration nearby in 2015.
But it appears the library will draw more scholars than protesters. Librarians this year earned thanks from writer Ron Chernow, the author whose Alexander Hamilton biography inspired the hit musical, in Chernow's new book on Grant. It's part of a revival of Grant's reputation spurred in part by the publication of Grant's papers.
"I think we're having an influence," Marszalek said. "The renaissance of Grant literature didn't come by accident."
Mississippi State and the association proclaimed the collection a presidential library in 2012 amid ambitious expansion plans. The university added 22,000 square feet (2,000 square meters) onto what had been the roof of its main library to house exhibits and collections. Librarians are still cataloging the 15,000 Lincoln books and items Williams donated. And space remains plentiful in the library's climate-controlled storage, where it's always 50 degrees and lip-crackingly dry, for Mississippi State to become a leading destination for scholarship on the Civil War and Reconstruction.
Still, the hook remains with Grant, the victor of Vicksburg whose legacy comes full circle down South.
Said Marszalek: "One of the best things we have going for us is they can't believe Grant is in Mississippi."
---
Follow Jeff Amy at: http://twitter.com/jeffamy . Read his work at https://www.apnews.com/search/Jeff_Amy .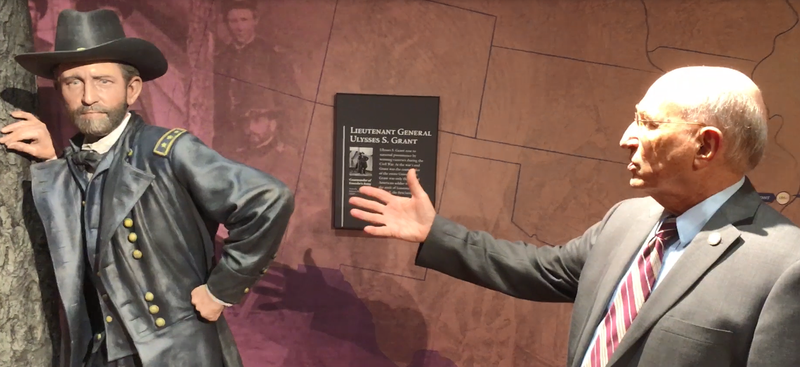 Dr. John Marszalek, executive director of the Ulysses S. Grant Association, gestures to a lifesize statue of Ulysses S. Grant as a soldier.