MSU Grant Library assists with Pulitzer Prize winner Chernow's latest biography
Dec 17, 2017
Ron Chernow, Pulitzer Prize winning author of "Hamilton," spent four weeks at Mississippi State University researching for his latest book, a biography of Ulysses S. Grant.
In the new book, "Grant," released this week to widespread critical acclaim, Chernow thanks the staff of the Ulysses S. Grant Presidential Library at MSU's Mitchell Memorial Library for their assistance with the 1,104-page biography.
"In addition to the fifty thousand documents from the published papers, the library contains another two hundred thousand documents that never made it into print—a scholarly feast for anyone remotely curious about Grant," Chernow wrote in the acknowledgments section of his new book. "I especially profited from the numerous oral histories, profiles, newspaper interviews, letters, and diaries that conjure up Grant with extraordinary vividness."
Chernow's Grant biography is among many recent major publications on the Civil War general and two-term president. John F. Marszalek, MSU Giles distinguished professor emeritus of history and Ulysses S. Grant Association executive director and managing editor, said the resurgence in Grant scholarship is due in part to the completion of The Papers of Ulysses S. Grant.
"Starting in 1962, the Grant Association started collecting every known letter of Grant's and, suddenly, we have in front of us some real information about Grant that's never been available before," Marszalek said. "When Ron and others come here, they see things they've never seen anywhere else. It allows historians to tell the whole story."
Also in the acknowledgments, Chernow thanks former MSU history graduate students Doug Forrest and L.B. Wilson for driving him to campus from his hotel in Starkville during each of his four trips to the Grant Library and providing "many stimulating discussions." He also thanked current and former MSU Libraries staff members Amanda Carlock, Aaron Crawford, Meg Henderson, Bob Karachuk, David Nolen and Ryan P. Semmes.
"With his invaluable insights and suggestions, nobody contributed more to this book than John Marszalek, and he and his wife, Jeanne, were exemplary hosts to boot," Chernow wrote. "The first-rate team of archivists and assistants at the library provided help with unfailing courtesy and efficiency."
David Nolen, an assistant editor at the Ulysses S. Grant Association, said Chernow made an effort to surround himself during his research and writing process with people that knew about Grant, which shows in the final product.
"Ron has a really good eye for seeing the moments and circumstances in someone's life that are really pivotal moments in the development of that person's character," Nolen said. "He brings that out and brings the reader along to understand that."
Although Chernow has received considerable fame in recent years following the hit Broadway musical adaptation of his Alexander Hamilton biography, Nolen noted that everyone from an undergraduate history student to a Pulitzer Prize winner receives the access and service necessary for his or her research at the Grant library. That level of access has helped move scholarship on Grant forward, Nolen said.
The new home of the Grant Presidential Library, a $10 million addition to Mitchell Memorial Library, is set to open on Nov. 30. The space will also house one of the largest private collections of Abraham Lincoln material in the country, the Frank and Virginia Williams Collection of Lincolniana, which was donated to MSU earlier this year. Chernow will visit MSU as part of the grand opening festivities.
"We have Grant, and we have Lincoln," Marszalek said. "We're becoming the place that people have to come if they want to do anything on the Civil War. We're now one of the great centers of Civil War history, in my opinion. And when people like Chernow come to visit, they see the university, they see the state and see that there's some good stuff going on here."
More information on "Grant" by Ron Chernow, published by Penguin Press, is available at https://www.penguinrandomhouse.com/books/311248/grant-by-ron-chernow/9781594204876/.
For more on the Ulysses S. Grant Presidential Library, see www.usgrantlibrary.org.
MSU is Mississippi's leading university, available online at www.msstate.edu.
Originally published at https://www.msstate.edu/newsroom/article/2017/10/msu-grant-library-assists-pulitzer-prize-winner-chernow-s-latest-biography/ by James Carskadon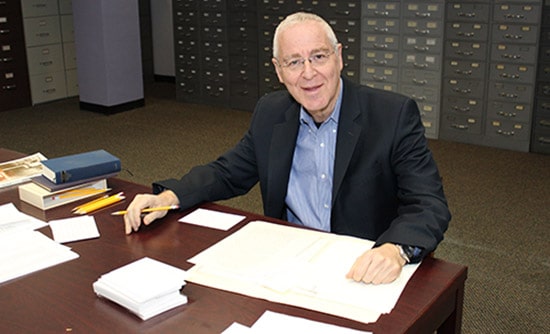 Pulitzer Prize winning author Ron Chernow conducts research for his biography on Ulysses S. Grant during a 2014 visit to the Ulysses S. Grant Presidential Library at Mississippi State University. (Photo by Randall McMillen)