MSU Grant historians to release first fully annotated version of former president's influential memoirs
Oct 03, 2017
Although Ulysses S. Grant's personal memoirs have remained in print for more than 130 years, the American nonfiction classic is being fully annotated for the first time in a new book by historians at the Ulysses S. Grant Presidential Library at Mississippi State University.
"The Personal Memoirs of Ulysses S. Grant: The Complete Annotated Edition" will provide modern context for the historical memoirs when it is released Oct. 16 by the Belknap Press of Harvard University Press. John F. Marszalek, MSU Giles Distinguished Professor Emeritus of History and Ulysses S. Grant Association Executive Director and Managing Editor, edited the book, along with Grant Association assistant editors David S. Nolen and Louie P. Gallo. The annotated version of Grant's memoirs contains over 2,000 footnotes that provide additional information and place the former president's thoughts in the context of when he was writing.
"The great thing about this book is it lets Grant speak for himself, but it lets a modern reader get more insight," Marszalek said. "If we can make this piece of literature clearer to the modern audience, then we've accomplished something significant."
Grant completed his memoirs at the Mt. McGregor retreat in New York, days before his death in 1885 and at a time when he had lost all of his money in a Ponzi scheme. The memoirs, sold door-to-door by former Civil War soldiers, would go on to be hailed as one of the most important works of American nonfiction in the 19th century. Grant's writing style, which was concise and written in approachable language, has helped his memoirs remain accessible to audiences for generations after his death.
The Mt. McGregor retreat, later named the Ulysses S. Grant Cottage State Historic Site, was recently named New York's 24th Literary Landmark. Nolen was the keynote speaker for a ceremony at the cottage commemorating the designation.
"It was an incredible honor to go and be a part of that ceremony and that event," Nolen said. "I thought it was very fitting that the site should have that designation. When you think of the memoirs being completed there, Grant really made some difficult and painful decisions along the way right there in that spot, for what became a classic in American literature."
The annotated version of Grant's memoirs has been in the making for over 50 years. Former Ulysses S. Grant Association President John Y. Simon wrote in 1967 that the project would begin once the association had completed its compilation of The Papers of Ulysses S. Grant. With the 32nd volume of Grant's papers completed earlier this decade, the Grant Library team at Mississippi State began working on a modern version of Grant's memoirs. The annotated version contains a preface by Grant Association President and former Rhode Island Supreme Court Chief Justice Frank J. Williams.
"Grant's writing style is very unpretentious and plain, but in a good way," Gallo said. "I think that translates over the years, because anybody can pick it up and read it. It's just an easy read and the story is so intriguing. It's interesting to see his perspective on these huge events in American history. We identify every person Grant mentions in the book, which helps preserve some additional memories. I hope this is the edition to end all editions of Grant's memoirs."
MSU Libraries will host a book signing on Oct. 20 at 3 p.m. The authors will hold book signings and discussions this month at Starkville Public Library and Square Books in Oxford. An additional book signing will take place when the new Ulysses S. Grant Presidential Library at Mississippi State University officially opens with a celebration on Nov. 30.
For more on "The Personal Memoirs of Ulysses S. Grant: The Complete Annotated Edition," visit http://www.hup.harvard.edu/catalog.php?isbn=9780674976290.
Mississippi State is one of five universities housing a presidential library. For more, visit www.usgrantlibrary.org.
MSU is Mississippi's leading university, available online at www.msstate.edu.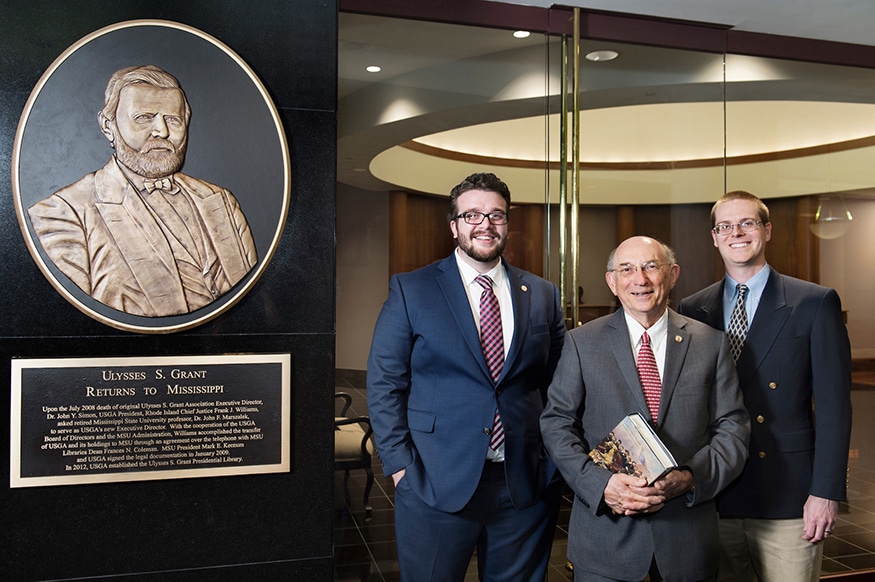 Ulysses S. Grant Presidential Library historians, from left to right, Louie P. Gallo, John F. Marszalek and David S. Nolen, this month will release "The Personal Memoirs of Ulysses S. Grant: The Complete Annotated Edition," published by Harvard University Press. (Photo by Megan Bean)