MSU Grant historians to host discussion, book signing of annotated Grant memoirs
Oct 13, 2017
STARKVILLE, Miss.—Three leading Ulysses S. Grant scholars at Mississippi State University's Grant Presidential Library will host a public talk and book signing Oct. 20  for their new annotated version of the former president's classic memoirs.
The Personal Memoirs of Ulysses S. Grant: The Complete Annotated Edition, published by Belknap Press of Harvard University Press, provides modern context for the historical memoirs. John F. Marszalek, MSU Giles Distinguished professor emeritus of history and Ulysses S. Grant Association executive director and managing editor, edited the book, along with David S. Nolen and Louie P. Gallo, association assistant editors.
The authors will discuss their new book and hold a book signing during the 3 p.m. event in Room 1200 of MSU's Old Main Academic Center. The presentation and book signing are free and open to the public. Copies of the annotated memoirs will be available for purchase.
Grant's memoirs have remained in print for over 130 years. The version edited by Marszalek, Nolen and Gallo marks the first time the non-fiction classic has been fully annotated. The new book contains over 2,000 footnotes that provide additional information and place the former president's thoughts in the context of when he was writing. It contains a preface by Grant Association President and former Rhode Island Supreme Court Chief Justice Frank J. Williams.
Grant completed his memoirs at the Mt. McGregor retreat in New York, days before his death in 1885 and at a time when he had lost all of his money in a Ponzi scheme. The memoirs, sold door-to-door by former Civil War soldiers, would go on to be hailed as one of the most important works of American nonfiction in the 19th century. Grant's writing style, concise with approachable language, has helped his memoirs remain accessible to audiences for generations after his death.
In addition to the Oct. 20 event in Starkville, the authors have a book signing planned for Oct. 23 at Square Books in Oxford and a book signing is scheduled in conjunction with the Nov. 30 grand opening of the $10 million Mitchell Memorial Library expansion that houses the Ulysses S. Grant Presidential Library at MSU.
For more on The Personal Memoirs of Ulysses S. Grant: The Complete Annotated Edition, visit http://www.hup.harvard.edu/catalog.php?isbn=9780674976290.
For more on the Ulysses S. Grant Presidential Library, see www.usgrantlibrary.org.
MSU is Mississippi's leading university, available online at www.msstate.edu.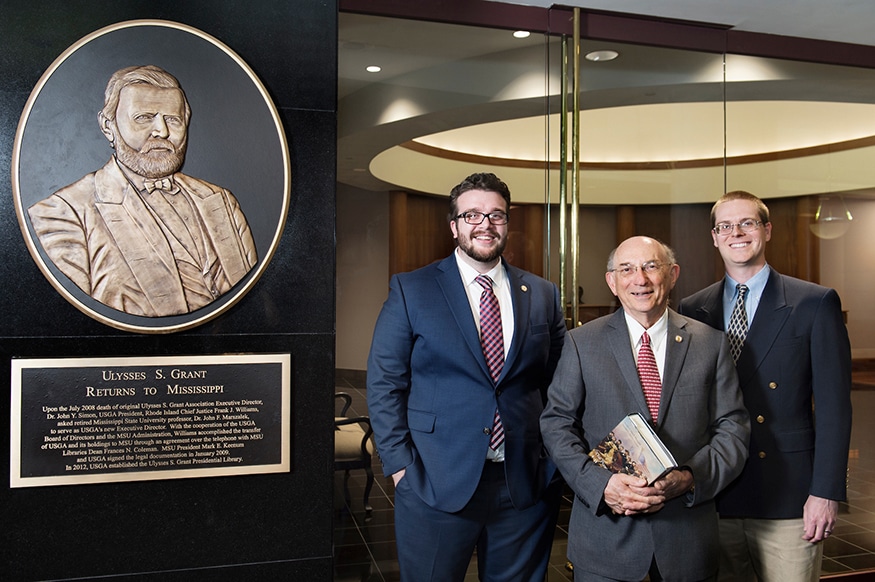 Ulysses S. Grant Presidential Library historians, from left to right, Louie P. Gallo, John F. Marszalek and David S. Nolen, this month will release "The Personal Memoirs of Ulysses S. Grant: The Complete Annotated Edition," published by Harvard University Press. (Photo by Megan Bean)