Grant exhibit features depictions of three presidents
May 15, 2015
Contact: Zack Plair
STARKVILLE, Miss.–Rare portraits and photographs of three U.S. presidents are part of a special free display that just opened at Mississippi State's Ulysses S. Grant Presidential Library.
"The President's Face: Portraits of Ulysses S. Grant and Abraham Lincoln in Context" exhibit will be featured through April 30, 2016, at Mitchell Memorial Library, which houses the Grant Library. Coming from private collections, it contains various images of Grant and Abraham Lincoln, as well as James Garfield, the 40th U.S. chief executive who, like Lincoln, was assassinated while in office.
Most of the portraits and early photographs represent holdings from the family of Henry Ulke, a renowned 19th century artist and photographer who knew all three U.S. leaders.
"Many of the pieces have never been shown before," said Lisa A. Banner of Pelham, New York, curator of the Ulke family collection.
Among the most prominent pieces is one of Ulke's much-praised oil portraits of Grant. The artist completed four versions, one of which now hangs in the White House, Banner said.
Photographs of Grant from his portrait sittings, along with Ulke's writings about the experience, accompany this part of the display.
Ulke and brother Julius, also a photographer, were personal friends of Lincoln, Banner said, and both stood at the president's side as he lay unconscious on his deathbed across from Ford's Theatre in Washington, D.C.
Ulke's collection also includes a somewhat unique Lincoln image captured by Alexander Gardner–another prominent photographer of the day–specifically, one of only two known to show the president's left profile.
Banner said the exhibit illustrates a progression of how presidents were depicted in the late 19th century, from Lincoln's more rigid aura of statesmanship to Garfield's portrayal as "dashing and debonair."
The Grant Library exhibit also offers a handful of photos from a second private collection of the Grant family on vacation in Watertown, Massachusetts. "In these, you can see Grant not just as a military man or as president, but as a family man, a friend, a man at leisure playing chess," Banner explained.
Yet another famous Grant portrait for visitors to see once hung in Washington's National Portrait Gallery and is on loan from art collector Jim Small of Las Vegas. With it are other photographs and artifacts from the library's current collection.
John Marszalek, executive director and managing editor of the MSU-based U.S. Grant Collection, said exhibits like "The President's Face" open avenues for the Grant Library to offer more diverse learning experiences. The exhibit also helps introduce Ulke to a broader audience.
"We think this exhibit is exciting," Marszalek said. "It's an important collection because it talks about a very important man from this era (late 1800s) that the average person on the street may not know about."
For more information on the Grant library, visit www.usgrantlibrary.org.
MSU, Mississippi's flagship research university, is online at www.msstate.edu, facebook.com/msstate, instagram.com/msstate and twitter.com/msstate.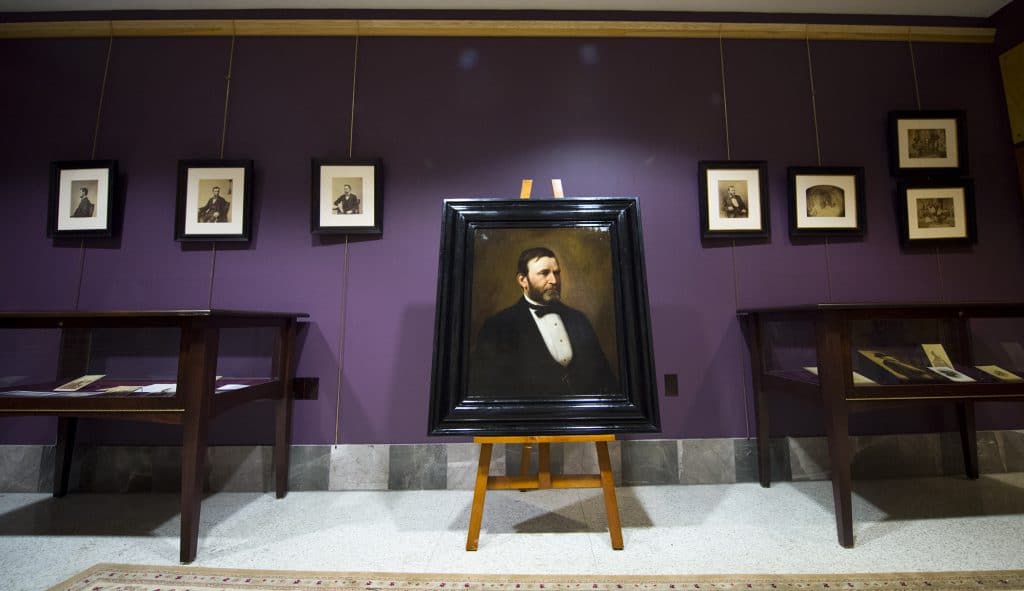 MSU's Ulysses S. Grant Presidential Library now features an exhibit titled "The President's Face: Portraits of Ulysses S. Grant and Abraham Lincoln in Context." The collection of photographs and portraits, some never before shown publicly, are on display through April 2016. Photo by: Russ Houston