First Lady Julia Grant's historic opera cloak now displayed among artifacts at MSU's Presidential Library Museum
Nov 22, 2019
Originally published at https://www.msstate.edu/newsroom/article/2019/11/first-lady-julia-grants-historic-opera-cloak-now-displayed-among-artifacts by Sasha Steinberg
STARKVILLE, Miss. — While preparing to visit the newly opened Paris Opera House in 1877 during a world tour with husband and former U.S. President Ulysses S. Grant, First Lady Julia Grant purchased a black, beaded silk evening wrap for the occasion.
This 37-inch-long cloak would become one of renowned French designer Emile Pingat's most recognizable pieces, and the freshly preserved treasure now is available for public viewing at Mississippi State's Ulysses S. Grant Presidential Library Museum. Housed in the university's Mitchell Memorial Library, the museum will display the artifact through December 2020.
"We are excited to have Mrs. Grant's cloak here in the Grant Presidential Library Museum at Mississippi State, and we encourage students and other members of the campus community, as well as the general public, to come enjoy this and other treasures we have on display," said MSU Libraries Archivist Ryan P. Semmes.
Containing six panels of beadwork, Julia Grant's opera cloak was restored earlier this year by New Orleans-based conservator Jessica Hack whom Semmes located through a Civil War magazine article.
Hack vacuumed the 140-year-old cloak with a low-suction, HEPA-filtered cleaner and hand dry-cleaned the piece with mineral spirits. She also clipped and trimmed loose and broken threads, restrung broken bead strands, stabilized the neckband with a crepeline silk overlay, dyed china silk to blend with the color of the shredded band, and heat fused the crepeline and neckband together.
Semmes said after President Grant's death in 1885, his wife moved from New York back to Washington, D.C., where she took in young women who were students at the nearby Corcoran Art School. In the late 1890s, Julia Grant gave the opera cloak to one of these young women whose grandson, a Lt. Colonel in the U.S. Army, ultimately donated it to the Ulysses S. Grant Association in 1971.
Semmes said the cloak remained in its original dress box in the Grant Association offices until 2009 when the organization moved its headquarters from Southern Illinois University to MSU. Under the direction of USGA Executive Director John Marszalek, MSU Libraries' archivists placed the cloak in an acid-free box and did minor preservation work on it, but the piece needed more attention.
Now-retired MSU Professor of Apparel, Textiles and Merchandising Wanda Cheek cleaned the cloak and researched Pingat and his work. This research, Semmes said, provided much needed context into the cloak's importance as a piece of material culture.
Periodically brought out to be displayed in its box, the historic piece still needed care from a professional conservator. In spring 2019, Semmes sought Hack's assistance, and she returned the restored cloak to MSU this summer.
Also at the Grant Presidential Library Museum, visitors can now view red and white crystal wine glasses and a decanter used at the White House wedding of the president's daughter Nellie. Both are engraved with the letters "USG."
The famous "Mikado china," a blue and white set gifted by the Emperor of Japan to the Grants following their famous World Tour, is displayed as well.
Along with the state-of-the-art Presidential Library museum chronicling Grant's life, Semmes said patrons can enjoy individual and guided tours of the adjacent Frank J. and Virginia Williams Collection of Lincolniana, the largest privately owned Abraham Lincoln collection in America donated in 2017 by former Rhode Island Supreme Court Chief Justice Frank Williams and his wife Virginia.
For more on these one-of-a-kind collections, visit www.usgrantlibrary.org and http://lib.msstate.edu/williamscollection.
MSU is Mississippi's leading university, available online at www.msstate.edu.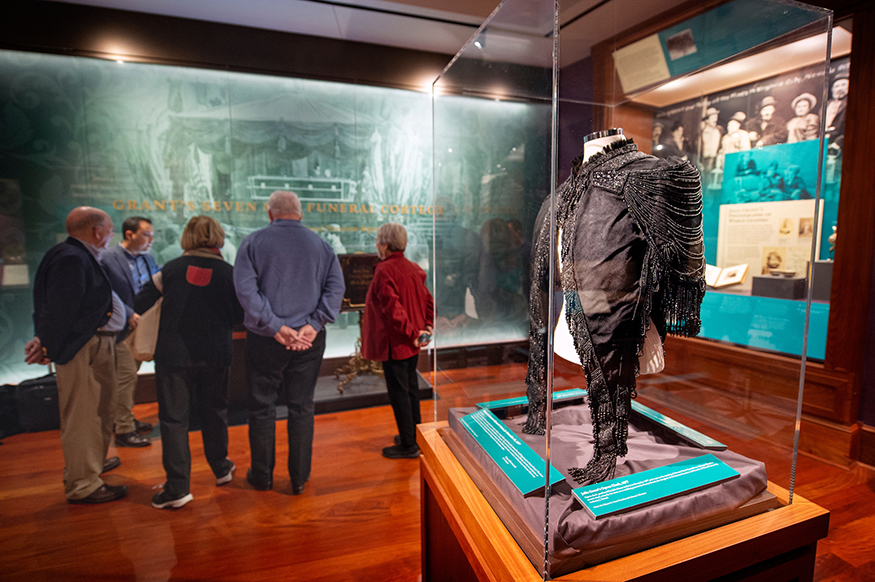 Glass case displaying an opera cloak.