Frank J. Williams
President Emeritus, Ulysses S. Grant Association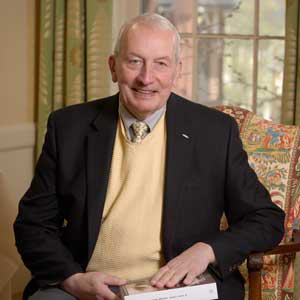 Frank J. Williams is the retired Chief Justice of the Supreme Court of Rhode Island and is one of the country's most renowned experts on Abraham Lincoln. He is the author or editor of over fourteen books; he has contributed chapters to several others; and has lectured on the subject throughout the country. At the same time, he has amassed an unsurpassed private library and archive that ranks among the nation's largest and finest Lincoln collections.
In 2000, the Chief Justice was appointed to the Abraham Lincoln Bicentennial Commission created by Congress to plan events to commemorate the 200th birthday of Abraham Lincoln in 2009. Since 1996, Chief Justice Williams has served as founding Chairman of The Lincoln Forum, a national assembly of Lincoln and Civil War devotees. For 9 years, he served as President of the Abraham Lincoln Association and, for 14 years, as President of The Lincoln Group of Boston. He is currently at work on an annotated bibliography of all the Lincoln titles published since 1865 for Southern Illinois University Press for which he is also writing Lincoln as Hero. His book of essays, Judging Lincoln, was published by Southern Illinois University Press in 2002. He, with Harold Holzer and Edna Greene Medford, has written The Emancipation Proclamation: Three Views, Social, Legal and Pictorial just published by Louisiana State University Press. His latest book, Lincoln Lessons: Reflections on America's Greatest Leader, with William D. Pederson, was published by Southern Illinois University Press in 2009. He also serves as Literary Editor of the Lincoln Herald where his quarterly "Lincolniana" survey appears.
He has been named by Lawdragon as one of the top 500 judges, out of 30,000 in the United States.
The Chief also served in the U.S. Army from 1962-67 achieving the rank of Captain. For his service he was awarded the Combat Infantryman's Badge, Bronze Star, 3 Air Medals and, from the Republic of Vietnam, the Gallantry Cross with Silver Star for Valor.
On December 30, 2003, the President of the United States, through the Secretary of Defense, invited Chief Justice Williams to be a member of the then Military Commissions Review Panel for tribunals to be held in Guantanamo Bay, Cuba, with the rank of Major General. The Military Commissions Act of 2006 created the Court of Military Commission Review on which Williams served as a civilian appellate judge. He served as Chief Judge of the U.S. Court of Military Commission Review from November 21, 2007 to December 23, 2009.
John F. Marszalek
Executive Director Emeritus, Ulysses S. Grant Association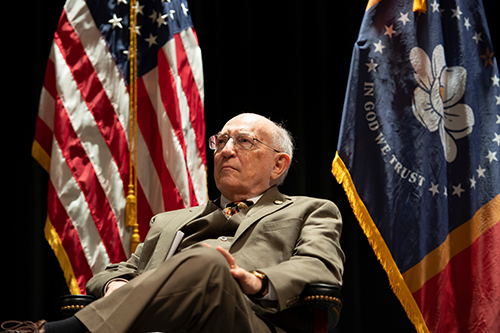 John F. Marszalek was born on July 5, 1939 in Buffalo, NewYork, the first of five children of John and Regina Sierakowski Marszalek.  He married Jeanne Kozmer on October 16, 1965 and they have three sons:  John F. III; Chris H.; and Jamie and eight grandchildren: 2 boys and six girls.
A graduate of Canisius College, 1961, he received his masters and Ph.D. from the University of Notre Dame, 1963, 1968.
He participated in ROTC at Canisius and was commissioned a second lieutenant in the Intelligence branch upon graduation.  He was on active duty from 1965-1967, serving at Fort Benning, Fort  Holabird, and in a psychological operations battalion in Viet Nam.
Since that time, he has been a historian, educator, writer, and administrator:
1967-1968  Canisius College, Buffalo NY,  instructor of history
1968-1973, Gannon College, Erie Pa., assistant and associate professor
1973-2002, Mississippi State University, associate professor, professor, William L Giles Distinguished Professor of History; Giles Distinguished Professor Emeritus 2002-present..  From 2008 to the present he has been the executive director of the Ulysses S. Grant Association's Grant Presidential Library at Mississippi State University. From 1998-2012, he was the Director and Mentor of Distinguished (Undergraduate) Scholars, He is co-editor (with Timothy B. Smith) of The World of Ulysses S. Grant book series at Southern Illinois University Press, 2014 to present.
Marszalek taught courses in the Civil War, Jacksonian America, and Race Relations and produced over twenty doctoral and masters graduates, a number of whom are published scholars.
He is the author or editor of fifteen books and over three hundred articles and book reviews. Sherman, A Soldier's Passion for Order was a finalist for the 1993 Lincoln Prize and won non-fiction awards from the Mississippi Library Association and the Ohioiana Library Association. His first book Court Martial, A Black Man in America was made into a Showtime motion picture and reissued as a paperback under the new title Assault at West Point. President Bill Clinton presented the family of the wronged black West Point cadet a posthumous U.S. Army commission during a White House ceremony. Along with Charles D. Lowery, he edited The Encyclopedia of African American Civil Rights, which the Library Journal named one of the best reference books of 1992. Three of his books (Sherman, A Soldier's Passion for Order, The Petticoat Affair:  Manners, Mutiny, and Sex in Andrew Jackson's White House, and Commander of All Lincoln's Armies, A Life of General Henry W. Halleck) have been History Book Club Selections. His latest books are The Best Writings of Ulysses S. Grant (2015) which won a writing award from the U.S. Army Foundation, Lincoln and the Military (2014) and A Black Congressman in the Age of Jim Crow, South Carolina's George Washington Murray (2006). He continues to lecture widely throughout the nation and has appeared on the major television networks. He serves on the board of advisors of the Lincoln Forum and the Lincoln Prize.  Canisius College named him a distinguished alumnus; he received the Richard Wright Literary Award for life time achievement by a Mississippi author, and the Mississippi Historical Society presented him its highest award, the B.L.C. Wailes Award for national distinction in history. His graduate students published a book in his honor entitled Of Times and Race:  Essays Inspired by John F. Marszalek, 2013.
He and his wife, Jeanne, have established Library Fund Endowments at Mississippi State University, Canisius College in Buffalo NY and St. Mary's College in South Bend Indiana. Presently, along with David Nolen and Louie Gallo of the U.S. Grant Association, he is completing the first completely annotated edition of the Memoirs of U.S. Grant, which will be published by Harvard University Press in 2017.