New biography from MSU historians on U.S. Grant selected 2019 Maroon Edition book
Apr 02, 2019
Originally published at https://www.msstate.edu/newsroom/article/2019/04/new-biography-msu-historians-us-grant-selected-2019-maroon-edition-book/ by James Carskadon
STARKVILLE, Miss.—A new, concise biography of Ulysses S. Grant written by Mississippi State historians has been named the university's common reading book for the 11th Maroon Edition program.
MSU President Mark E. Keenum today [April 2] announced "Hold On with a Bulldog Grip: A Short Study of Ulysses S. Grant" as this year's selection. In a campus-wide message, Keenum said that the book is a "most appropriate choice for our campus," because MSU is home to the Ulysses S. Grant Presidential Library. MSU and Grant Library historians John Marszalek, David Nolen and Louie Gallo, along with former Rhode Island Supreme Court Chief Justice Frank Williams, wrote the new biography.
"'Bulldog Grip' offers a concise but no less compelling account of Grant's remarkable life as soldier, general, president and best-selling author," Keenum said. "I was honored to contribute an afterword examining the long-standing connection between Grant and our institution–a story that many may not know."
"Hold On with a Bulldog Grip," is set to be released by University Press of Mississippi on April 15. To encourage participation in the reading program, all incoming freshman students and transfers attending MSU Orientation will receive a free copy of the book.
The authors are no strangers to Grant, the nation's 18th president. In 2017, Marszalek, Nolen and Gallo published "The Personal Memoirs of Ulysses S. Grant: The Complete Annotated Edition," an award-winning publication that puts Grant's famous memoirs in a modern context. Marszalek is executive director of the Ulysses S. Grant Association, Nolen is the associate editor and Gallo is the assistant editor. Williams is the association's long-time president. In 2017, Williams, along with his wife, Virginia, donated their unparalleled private Abraham Lincoln and Civil War collection to MSU, cementing the university's status as one of the leading places to study the Civil War and Reconstruction eras.
The book's authors said that at 120 pages, "Hold On with a Bulldog Grip" provides an easily digestible biography of Grant, highlighting key moments in Grant's life and his connection to iconic figures such as Abraham Lincoln and Mark Twain.
"We wanted to create something that students would enjoy reading," Marszalek said. "The book has 10 chapters dealing with various aspects of Grant's life. We hope the students will read this book, discuss it, and then come to the Grant Library and take a look at the galleries and resources we have here."
The book's title is based on correspondence between Grant and Lincoln during the general's Virginia campaign in 1864. Months prior to the 1864 election, Lincoln told Grant to "Hold on with a bulldog grip, and chew and choke as much as possible." In addition to providing details of Grant's upbringing and personal life, the manuscript discusses his Civil War strategies.
"I think this is a great book for anyone that wants to learn more about Grant," Gallo said.
MSU has been home to the Ulysses S. Grant Presidential Library since 2009. In 2017, the university completed a $10 million addition to Mitchell Memorial Library to house the presidential library and museum, the MSU Congressional and Political Research Center, and the Frank and Virginia Williams Collection of Lincolniana. The addition includes state-of-the-art, interactive galleries focusing on Grant and Lincoln that are open to the public at no charge.
"In the museum space, we spent a lot of time thinking about how we can make Grant's story more approachable and how we can take Grant off the pedestal and put him in the context of a real person that lived a real life and had real struggles," Nolen said. "I think this book is a natural outflow of that process with the museum. We're again trying to make the Grant story more digestible and more approachable."
"Hold On with a Bulldog Grip" can be purchased online from the University Press of Mississippi and will be available at area book retailers. For more, visit http://www.upress.state.ms.us/books/2240.
MSU's Center for Teaching and Learning oversees the selection of the Maroon Edition book every year. Maroon Edition activities are held throughout the year for students at all class levels, as well as interested administrators, faculty and staff members. For more information, visit www.maroonedition.msstate.edu.
MSU is Mississippi's leading university, available online at www.msstate.edu.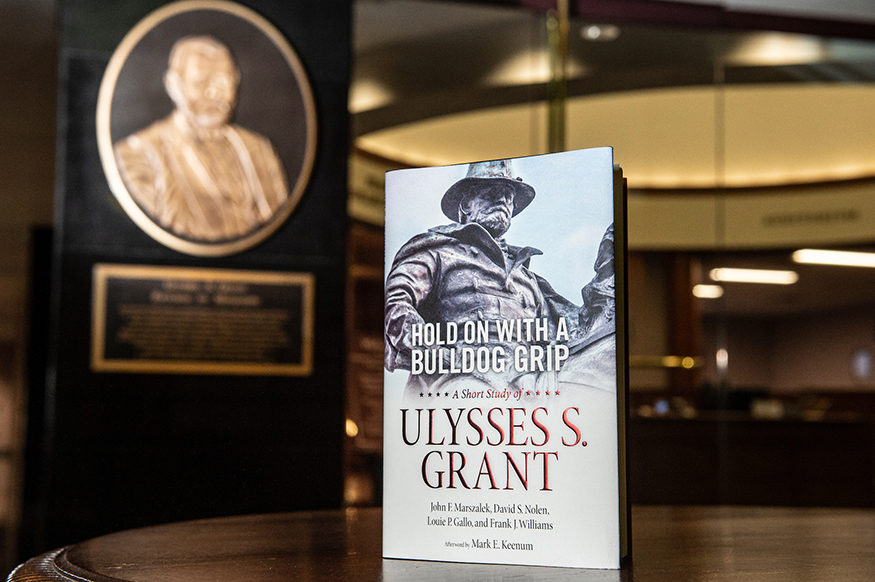 Copy of the book Hold on With a Bulldog Grip sitting on a table.