MSU Libraries digitize Civil War diaries and letters
Nov 22, 2016
The Mississippi State University Libraries has digitized and made available in its Digital Collections the Orville Babcock Diaries and the Letters of Pvt. Arthur McKinstry.
The Babcock and McKinstry materials are a part of the overall Ulysses S. Grant Collection, which is housed at the Ulysses S. Grant Presidential Library on the first floor of Mitchell Memorial Library at MSU's Starkville campus.
Orville Babcock was a Union Army officer and engineer, eventually becoming General Grant's aide-de-camp late in the Civil War. His diaries begin in 1863, notably including his perspective on the siege of Vicksburg, and continue into 1869. Also included are Babcock's wartime experiences in Kentucky, Ohio, and Tennessee before finally being summoned to Virginia. Additionally, they contain information regarding his post-war experiences in Washington, D.C., where Babcock served as personal secretary to Grant during his presidency, including his famous mission to Santo Domingo in 1869. This collection also includes supplementary materials of speeches, correspondence, and newspaper clippings.
The diaries were donated to the Grant collection by Merlin E. Sumner prior to the Grant collection's arrival at MSU in 2008.
The letters of Pvt. Arthur McKinstry represent the experience of a young private in the Union Army during the Civil War. McKinstry was faithful to write his mother, aunts, and cousins. He also wrote other letters to his uncles, giving reports and first-hand accounts about Company D, all of which are included. The McKinstry letters were donated to Grant collection by Frances Oakley.
Both the Babcock Diaries and the McKinstry letters are available for viewing at http://digital.library.msstate.edu/cdm/usgrantcollection and provide additional insights into the life and times of these individuals who served during the Civil War era.
The purpose of the MSU Digital Library is to produce, maintain, preserve, and provide access to digital collections that support the mission of the University and the Libraries. In particular, the Digital Library strives to support teaching, service and research by developing digital projects that provide greater access to Library collections and other unique University holdings. Material continues to be added to existing collections and planning for future digitization projects is ongoing.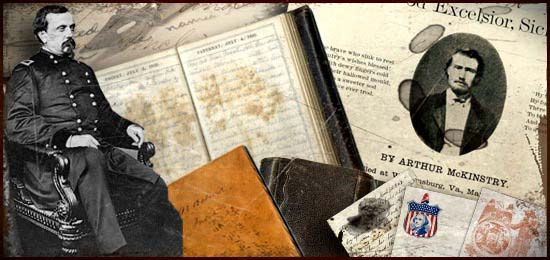 Photocollage of materials from Ulysses S. Grant Presidential Library's digital collections