MSU Libraries announces new 'John Rogers: The People's Sculptor' exhibit
Apr 25, 2019
STARKVILLE, Miss.—Mississippi State University Libraries is announcing an exhibition of works by noted 19th-century sculptor John Rogers.
Titled "John Rogers: The People's Sculptor," the exhibit includes 16 sculpture groups on display as part of the Frank and Virginia Williams Collection of Lincolniana housed at Mitchell Memorial Library. The gallery is located within the fourth-floor Ulysses S. Grant Presidential Library and is available Monday through Friday from 8 a.m.-5 p.m. and Saturdays from 10 a.m.-2 p.m.
Born in Salem, Massachusetts in 1829, Rogers was an American artist whose sculptures largely depict the conventional lives of ordinary people. His works encompass subjects such as Civil War soldiers, the horrors of slavery, historical figures and literary themes, all of which are intended to evoke feelings of shared experience and nostalgia.
Over the course of his career, Rogers sculpted roughly 80 distinct statuary groups. These were mass-produced for commercial sale and were most often cast in plaster. Rogers sold most of his statues for around $14 (approx. $425 in today's money), which made them affordable and accessible to middle-class Americans.
These works became so popular in the latter half of the 19th century that Rogers was often referred to as "the people's sculptor." By the end of his career, he sold an estimated 80,000 copies of his works, which amounted to $1 million in statuary.
Some of the most popular works on display in the Williams Collection of Lincolniana Gallery are "The Wounded Scout," which depicts a wounded Union soldier being helped through a southern swamp by a runaway enslaved man, and two variations of "The Council of War" which depict President Abraham Lincoln, General Ulysses S. Grant, and Secretary of War Edwin M. Stanton discussing military strategy.
For more information, contact Ryan Semmes, associate professor with MSU Libraries, at 662-325-9355 or rsemmes@library.msstate.edu.
MSU is Mississippi's leading university, available online at www.msstate.edu.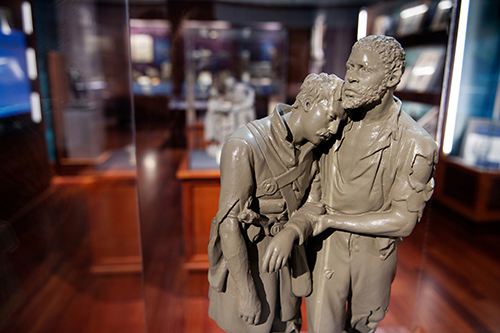 Sculpture of a wounded soldier being helped by a man.